Welcome to this page by a member of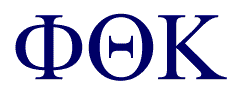 Phi Theta Kappa, Alpha Psi Sigma Chapter, located here in
Springfield, Massachusetts at
Springfield Technical Community College, Springfield, MA
A sample of the induction ceremony is below,
please allow whatever you browser calls the program to access the internet so
you can see it when you click on the arrow.


The above is an induction ceremony similar to the ones at STCC.
and it was found at this link.
Do some searching on "You Tube" and see
items from various international conventions and inductions
for ideas and uplifting good stuff to show what PTK is all about.